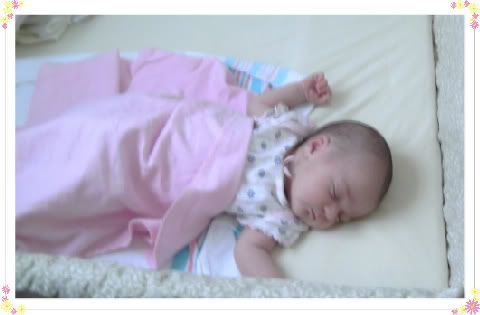 Wow, I can't believe it's been two weeks since I gave birth to Anna Lily. She's two weeks old already? I'm so proud that she hasn't had any formula in her (entire) life, no bottles or artificial nipples of any kind. That's a huge triumph for us!

She was also born too big for the newborn size diapers and too big for Sarah and Caleb's old preemie and newborn size clothing. That amazes my husband and me. Anna Lily is such a sweet little baby.

People ask me if she "fusses" a lot and I tell them I don't really know, because if she ever seems less than happy I just put her to the breast. Of course, everyone tells me I'm nursing her too much and that she's too dependant on me. Really? A newborn who is dependent on its mother?

She also makes nighttime parenting a breeze! She nurses around 10:30pm, then sleeps until sometime in the midnight hour, and then sleeps until sometime between 3-4 a.m. Neither of us wakes fully for her nighttime feeds and we sleep together, facing each other, so she can nurse while I lie down. How easy is that?? Thanks "baby Anna Lily"!